Name:
Venice Archer ......
Lives:
London, England
Aliases:
Claudia Delena, Bettina Blue, Mrs Harrington
About Venice Archer:
The first time we ever saw British pornstar Venice Archer was starring under the pseudonym Claudia Delena in a series shown on the Adult Channel called Sex And The Country Lady. She had the upper-class English voice of a real life Lady Chatterley, coupled with the bearing of someone who might have been the headmistress of any of the finest public girls schools in England. And here she was getting naked! Better, it turned out the series had a hardcore version too, and to see her stripping off the jodhpurs and not just getting naked, but ordering the staff to fuck her stupid uncensored-style while she talked dirty in that aristocratic English accent, was an experience not to be forgotten in any sort of hurry! Venice Archer has now, sadly, closed her own site for personal reasons. Content of her online remains pretty rare, but she features well both at Lady Sonia and Strand.
Venice Archer In Freddie's British Sluts 11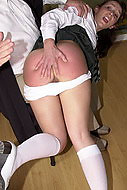 Claudia Delena English
Schoolgirl Spanking Fun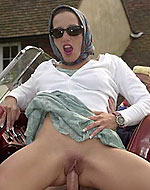 Lady Of The Manor Venice
Archer Hardcore Fucking