Name:
Taylor Morgan ......
Born:
Huthswaite, Yorks, England
Aliases:
Taylor J Morgan, Taylor J and Taylor Jade
Birthday:
August 3, 1977 ......
Lives:
Milton Keynes, England
Bio:
British tabloid newspaper and magazine pin-up turned hardcore pornstar Taylor Morgan could easily have led a life under smart office suit wraps if the fates had gone a little differently. Born in the quiet North Yorkshire village of Huthswaite, Taylor and her family moved to Bristol when she was nine. She preferred fun to swatting at school and left without qualifications, turning her hand to a string of low-paid jobs including hairdressing, sales rep and care assistant. Deciding it was time to get her act together, Taylor knuckled down and went to college, where she qualified as a care manager. After qualifying she decided it wasn't a career for her and took up the offer to become a trainee accountant. She did this for two years, gaining both accountancy and administration qualifications. "But I was miserable! Working in a boring office where nobody spoke day in and day out was really starting to depress me," Taylor recalls. "My lifelong dream was to become a model. From as far back as I can remember, I had always dreamed of being on Page 3." Taylor plucked up the courage to send off some topless pictures of herself and, before she knew it, her dream was becoming reality. She became a favourite model for UK newspaper the Daily Sport, regularly being shot by top British glamour photographers like Jeff Kaine and Steve Colby. Taylor wasn't scared to go fully nude and soon hit the covers of men's mags like Club, Escort, Razzle, Men Only and particularly Mayfair, where she regularly appeared in extreme sports editorials. TV viewers also soon became well-acquainted with Taylor as she did presenting gigs on the softcore adult channels Television X and Red Hot Euro. She was also soon a regular in shows for Playboy TV and The Adult Channel like Sunday Sport Stunners, The Really Naked Chef, Deep Desires and Pornomedics. While many glamour models baulk at hardcore, it held no fears for Taylor, who has gone on to shoot a whole string of X-rated movies and launch her own very much hardcore personal site. She has made the trip across the pond to the US, shooting for Penthouse, Hustler, FHM and others. Her striking resemblance to Pamela Anderson even saw her contracted by A-List Lookalikes, who did the TV series Celebrity Doubles, to make appearances as the Baywatch star. "It's not something that I have sought to do but I have always been told that I look like her so I thought 'what the hell'. Its all good fun. I really enjoy it and its all great promotion," Taylor says. She remains an English girl at heart, however, and has preferred to remain very much based in the UK rather than the US. She's even using the administration qualifications she earned to get behind the camera and produce X-rated features, as well as star in them.
British Pornstar Taylor Morgan Hardcore Movies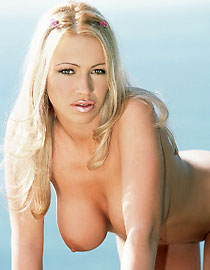 Brit Babe Taylor Morgan
Gonzo Hardcore Pics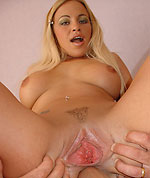 Brit Babe Taylor Morgan
Gonzo Hardcore Pics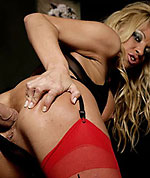 British Pornstar Taylor
Morgan Anal Video Clips