Name:
Sandie Caine ......
Born:
Sandie Davies
Aliases:
Sandie K, Sandie Moore, Sandy ......
Height:
5' 5" ......
Measurements:
34B-25-35
Bio:
Sandie Caine embodies so much of British pornstars which we most love. She didn't get in to porn because she had to - she got into porn because she liked it. Classically trained as a dancer, the then Sandie Davies was doing just fine for herself, with a job as a buyer at the head office of a major UK high street clothes retailer. She first started doing glamour shoots for fun and because she was curious. Her natural looks and passion for the job made her popular very quickly, and before Sandie knew it, she had quit her 9 to 5 job and begun a full-time career in porn. Sandie says, "It's being paid to do what I enjoy - like a professional footballer!"

As Sandie Caine, she has become most famous for organising her British Bukkake parties, where ads are placed in local papers or on the Internet inviting regular guys to come along to a filmed party and get a free blowjob for the pleasure! Sandie reckons it may be a contributing factor to her winning the publicly-voted British Adult Film Industry Awards Best Female Pornstar in 2003, saying that was because she had sucked an awful lot more public cock than most! In truth, there's so much more to Sandie Caine's popularity than that. Her heroes in the industry are US veterans Sharon Mitchell and Nina Hartley, and Sandie says she wants to stay in the adult industry till she dies. We wouldn't put it past her to be honest. There's very few pornstars out there with more passion and genuine love for their job than Sandie Caine.
British Pornstar Sandie Caine Hardcore Videos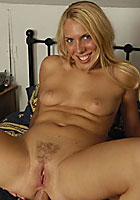 Sandie Caine Hardcore
And Smiling Gallery
Sandie Caine British
Bukkake Party Video