Name:
Rebecca Gayheart ......
Born:
Hazard, Kentucky, USA
Birthday:
August 12th, 1971 ......
Measurements:
34B-25-35
Bio:
American beauty Rebecca Gayheart is probably best-known to audiences worldwide for her roles in slick new generation horror movies like Scream 2, Urban Legend and From Dusk Till Dawn 3, but in her native States she was long known as 'The Noxzema girl' due to her being the face of the skin care company in a long-running TV ad campaign long before she ever made it in movies. From a heady mix of Italian, Irish, German, and Cherokee roots, Rebecca was born in Hazard but raised in Pinetop, Kentucky, a small community of just 800 people. At 15, she won a modeling competition and moved to New York City to pursue a career in modeling and acting. She finished high school at New York's Professional Children's School before moving on to study at the prestigious Lee Strasberg Institute. Her modelling career started with donning underwear in Sears and JCPenney catalogs, before she landed the Noxzema-girl contract in 1991. Her big break in TV came a year later with a long-running role in the daytime soap Loving. Other high profile TV roles followed in shows like Beverly Hills 90210, Sliders and the NBC miniseries Invasion. She first hit the movies in Nothing To Lose alongside Tim Robbins and Martin Lawrence, but it was a role as sorority sister Lois in Scream 2 that really thrust Rebecca Gayheart into international attention. Rebecca has only made one serious foray into movie nudity, where she can be seen in all her naked glory in the rare unrated version of the movie Vanishing Son. Fortunately, our friends in the paparazzi have caught the Gayheart superstructure sans bikini top at the beach and drunken nipslip popping out at parties on more than the one occasion also!
All Rebecca Gayheart Uncut Nude Video Clips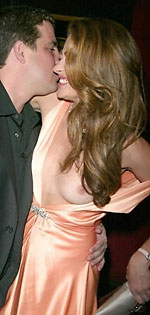 Scream 2 Star Rebecca
Gayheart Party Nipslip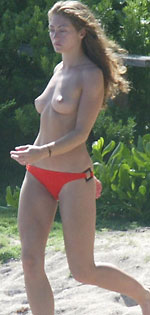 Rebecca Gayheart Beach
Topless Paparazzi Pics