Name:
Poppy Morgan ......
Born:
Hull, England
Birthday:
February 17th, 1983 ......
Height:
5' 3"
Weight:
105 lbs ......
Measurements:
34C-24-34
Awards:
Voted International Performer Of 2006 at Venus Berlin
Bio: Petite pornstar Poppy Morgan embodies much of what could be said to be the best qualities of British girls in the adult business. She looks anything but a girl who came off a production line of identikit pornstars. She's avoided silicon, kept the all natural girl next door look she started out with, and fans and work have poured in both in the UK and US as a result. It would be difficult to imagine Poppy Morgan keeping it anything but real, to be honest. Poppy originally worked as a chef, and in typical down-to-earth style has described how she got her break into the glamour business. She says she was standing outside the restaurant she worked at, covered in 'fish goo' and looking anything but glamorous, during a cigarette break, when a photographer approached her and asked if she'd ever considered modelling. It wasn't a poor chat-up line but a genuine offer. Poppy accepted and hasn't looked back since, although opening a small restaurant of her own one day still figures in her plans for the future.

Poppy actually has an identical twin sister, but says no amount of money offered will see her sister join her in the adult business. She's fine with Poppy's career choice ... but probably had to avoid a lot of her sister's wedding celebrations. Poppy infamously had her real-life hen night and wedding filmed, with her and friends fucking guys who weren't the groom. Poppy has said about the wedding movie: "People are too judgmental - it's none of their business how I choose to get married. People who are into porn think it's really wicked that I got married and made a film from it - my passion for porn taken further than most!"
Download All Poppy Morgan's XXX Scenes At Videobox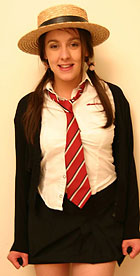 Poppy Morgan School
Hardcore Sex Fantasy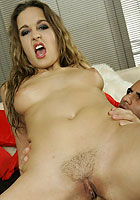 Poppy Morgan Getting
Double Penetration