Name:
Lorna Morgan ......
Born:
Cardiff, Wales
Birthday:
February 13th, 1976 ......
Height:
5' 4"
Measurements:
35-24-35 ......
Bra Size:
32G
Bio:
Bubbly big boob British babe Lorna Morgan is one of the all-time most recognised bra buster models, not just in her native UK, but across Europe and the US. The eldest of 8 children, Lorna still lives and works out of her hometown of Cardiff. A Welsh girl through and through, she enjoys nothing better than popping into a local pub to catch a rugby international on the telly. The awesome, all-natural 32G breasts which have made Lorna's name are still growing as the years pass. "I was about 11 when my boobs started to grow, and I really wanted to have big boobs, my cousin was a few years older and I was fascinated by hers so I wished for them," Lorna recalls. But when her wish started to come true, for many years she wanted to take it all back. "I hated my boobs; I wanted to get rid of them. Teenagers like to fit in, I looked a bit different and sometimes the girls bullied me for it because they were jealous," Lorna says.

At drama school, studying acting, she felt the same resentment to her breasts, finding herself stereotyped as a busty airhead when she wanted to play serious roles. "I blamed my boobs and I almost had them reduced," she recalls. Thankfully, for big breast fans everywhere, Lorna was persuaded by her agent to start modelling and her attitude to her wondrous assets slowly began to change. She was a big hit in Japan first with men's magazines and later with classics like Score, D-Cup and Bachelor. Today, she couldn't be happier with the figure that is her trademark, and admits to liking nothing more in the bedroom than a good boob licking and sucking. Which perhaps explains her favourite sexual fantasy. "I like to fantasise about vampires. The idea of a guy creeping into my room while I'm asleep taking and devouring me is quite a powerful and extremely sexual fantasy of mine," Lorna confesses. Gulp!
Busty Lorna Morgan And 24 Bonus Sites
Instant Access Busty Lorna Morgan Videos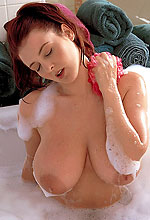 Busty Lorna Morgan's
Soapy Mammoth Mams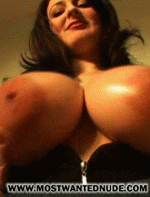 Big Tits Brit Star Lorna
Morgan Lesbian Sex