Name:
Layla Jade ......
Nickname:
Lay
Born:
Torbay, England ......
Birthday:
October 1st, 1980
Bio:
British pornstar Layla Jade might have a wild girl reputation as a performer, but she has most definitely got her head screwed on. Few British stars have managed their adult careers more astutely than our Lay. After a pretty idyllic tomboyish childhood skipping through the rockpools and beaches of the English Riviera, Layla Jade left school at 16 and worked for a time as a carer in nursing homes. But a born exhibitionist and a bit of a nymphomaniac, she always had her sights set on a career in the adult business. "I had been practicing with a video camera at home for some time and a very good friend put me in contact with someone who was a rather big player in the UK market. I sent him one of my tapes and he liked it and from there put me in contact with a couple of other people," Layla recalls.

On the very day of her 18th birthday - the first day she could legally shoot hardcore - Layla Jade began shooting her first XXX movie, Ben Dover's Butt Bangers Bonanza. There was no looking back from there. After shooting movies for some months in the UK, she got an invite, via respected photographer John Mason, to the States. Over 200 movies have followed. But there won't be many more in adult video stores. As of March 2008, Layla Jade has announced her retirement from performing. She is now seamlessly transitioning into producing and directing her own adult movies, in which sadly for fans, she will no longer star. We're sure Layla will make some really smoking hot movies, and wish her all the best for the future.
Layla Jade Instant Access Hardcore Videos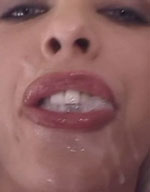 Layla Jade Gets A Big
Face Full Of Cum Video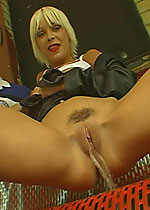 Layla Jade Extreme
Hardcoe Sex Action