Name:
Kerry Marie ......
Born:
December 9, 1978
Country:
Hillingdon, England ......
Height:
5' 4"
Measurements:
42-27-40 ......
Cup Size:
F cup!
Bio:
On leaving school, gorgeous Kerry Marie had her hopes dashed of becoming a Military Policewoman in the British Army when told she was too short. She worked as a dental hygenist for a time, before being discovered by the British newspaper The Sunday Sport, becoming one of its most popular touring exotic dancers ever. She was voted XL Girls Model of the Year 2004.
On Boobs:
Asked if guys coming up to her on the beach broach the subject of her amazing assets, Kerry Marie chuckles: "Well, generally, they're looking at my boobs. Some of them are sweet, but some of them are just amazed. Their first question is, "Are they real?" So I'll say, "Yes, they are real." Sometimes I feel like putting a tattoo on my boobs that says, They're real!"
Filmography:
Kerry Marie Exposed; Kerry Marie Special Reserve; Busty Kerry Marie 2; Busty Kerry Marie; Stacked & Packed Volume 5; On Location: Costa del Sol; Sticky Tits; Best Of Voluptuous 2; On Location: Key Largo.

Enjoy Kerry Marie's Mammoth Mammaries Every Day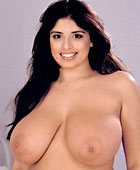 Kerry Marie Nude
Huge Boobs Exposed
Kerry Marie & Linsey
Dawn McKenzie Naked