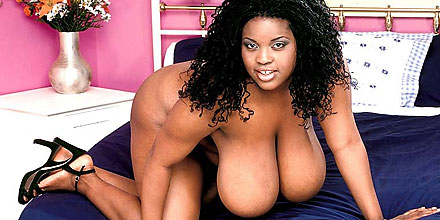 Name:
Jenny Hill ......
Born:
London, England
Aliases:
Jennie Hill, Jenny Price, Jenny J, Tasha
Birthday:
February 13, 1977 ......
Measurements:
38QQ-34-44
Bio:
Huge boobs ebony BBW Jenny Hill has one of the most awesome set of all-natural breasts ever to be captured on video. London-born Jenny proved a big hit with readers of Score and Voluptuous magazines when she was first discovered back in the late 1990s. She was on the road to becoming a big boob superstar, but retired from modelling to concentrate on her studies. Now, after some years away, Jenny is finally back and embracing every inch of the body she was given. "I'd like to thank God, my creator, who put me first in the queue when handing out breasts and womanly curves," she says. A little older and wiser, Jenny is now running her very own site, doing videos and photoshoots exclusively for her fans, writing her online diary and chatting regular in her private forum. Her legendary breasts are now bigger than ever, measuring a staggering 70 inches in diameter and requiring custom-made bras that cost around £250 a pop!
More Busty Jenny Hill At Big Bouncing Boobies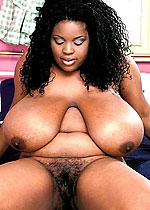 Giant Ebony Breasts
Star Jenny Hill Lesbian
Brit BBW Jenny Hill's
Huge Black Melons