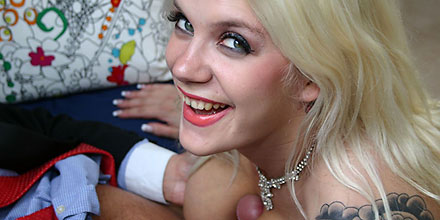 Name:
Cherry Treats ......
Hometown:
Bradford, England
Aliases:
Cherry Picker, Cherry, Delilah, Lady Delilah
About Cherry Treats:
Big boob British XXX star Cherry Treats is anything but your archetypal dumb blonde. Bradford-based Cherry went to quite a posh school, passed four A-levels and went on to take a law degree at university. But free spirit Cherry, who loves tattoos, has always had something of a wild streak. The 36FF-29-39 natural stunner got into glamour modelling and soon after full-on XXX hardcore porn by accident. "A friend of mine was doing it and I thought it looked like the most fun ever. And guess what? It is!" says Cherry. Pushing the boundaries of her personal fantasies has been a large part of the fun of being an adult star, and Cherry has taken those boundaries quite some way as her alter ego Lady Delilah, where she's indulged in some pretty kinky BDSM stuff on video. "My fantasy is to be in a society where there are no sexual taboos, where we could just act on our animal instincts all the time and fuck when we feel like it," Cherry says. The wildest thing she's done in her private life is to have got naked in a jacuzzi at a very posh nightclub and demand to be DPed by two strangers. Something tells us that it probably didn't take too much 'demanding' to get those two guys to agree!
Cherry Treats Early British Hardcore Movies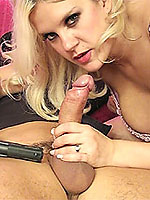 Busty Brit Babe Cherry
Treats Hardcore Clips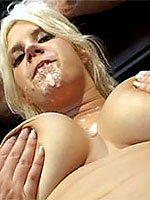 Big Tits Cherry Treats
Hot Hardcore Fucking