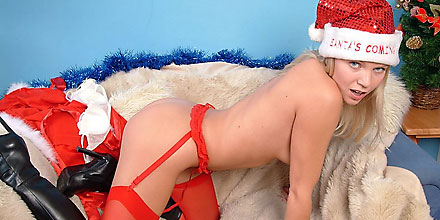 Name:
Abigail Toyne ......
Aliases:
Abby McKay, Abi
Born:
Jan 15, 1976 ......
Hometown:
Lincoln, England
About Abigail Toyne:
Much like British pornstar Venice Archer, Abigail Toyne has the voice and manner of very much anything but the stereotype of a UK glamour model. It's no accident she got given her own series on the British adult tv channel Television X called Abi's Posh Pussy. That 'posh' accent talking dirty, while she gets up to uncensored solo and girl-girl action many fans never thought they'd see when Abigail first made her mark on the British glamour scene in 1997, is very much the icing on the cake of a great little body. Abigail began her career as a Page 3 model. For a long time, it seemed she might have chosen a familiar path for Page 3 girls, of magazine modelling work that stopped way short of anything explicit. When she moved to the US, she became a regular softcore model for Men's World and for Playboy special editions. But her return to the UK in 2004 brought fans the pleasure and surprise of some much more daring work, stretching first to uncensored masturbation videos and later some full-on hardcore lesbian movies. Seems sometimes our prayers do get answered!
British Babe Abigail Toyne Explicit Videos
Abigail Toyne School
Mistress Shaven Pussy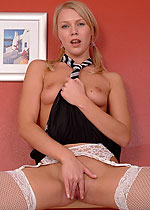 Abigail Toyne Uncut
Hot Masturbation Gallery